Toyota Tundra Fender Liner Kit
My 2008 Toyota Tundra just crossed 175,000 miles and I felt like I was neglecting it a bit.  I plan on keeping my truck for a while and I wanted to replace my fender liners that have mostly torn away.  When a truck starts to look old, it starts to feel old, and it's a downward spiral until you just don't care.  I looked into replacing the fender liners with OEM parts and I was shocked how much these things cost.  A single fender liner from Toyota can cost almost $50, and I wasn't going to drop $200 on all 4 fender liners for something that most people don't even notice.
Searching on some Tundra forums, I found a fender liner kit that came with the mounting plugs and a removal tool.  The whole kit costs less than the price of one OEM fender liner.  Fender liners are there to prevent mud and water from getting on your belts and engine block.  It but seem like they are more of an aesthetic part, and don't help with say cooling or anything.
Fender Plug Tool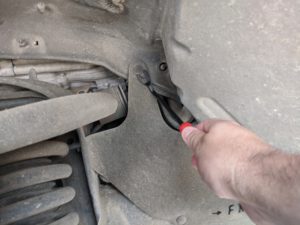 The tool that came with the fender liner kit worked awesomely.  The fork on the end gets underneath the old plugs and pops them out.  I had tried using a flat end screwdriver and a needlenose plier before getting this fender liner kit and it didn't work out.  Some of the plugs are out of the way in places that you can't get any leverage on.
Removal
With the fender plug removal tool, the liners came off with relative ease.  3 out of 4 of my liners had already been torn away.  The remaining intact liner was the passenger side front liner.  It hasd some hidden plugs in the top front that you cant see in the picture.  Without the tool, I would have had to take off the fender liner just to get at them.
Finished
Drivers Side
The driver's side is the easiest of the two sides to put on.  All the fender liner plugs are in plain sight and nothing was blocking them.  The one thing that annoys me is the "FL" mark is not pointing straight forward like all the other marks.  I double-checked and that is the only way that liner can go on.  So it appears that it's just an annoying print mark oriented in a different direction.
Passenger
The passenger front-liner was the only one that gave me a fight to put on.  There are 2 liner plugs in the top right that you can't see and there is little space to get the plug in straight.
Finished
In the end, these are liners on the inside of the wheel well that I fixed just because I wanted to.  I'm not sure if it's in my head, but I did feel that the sound of the accessory belt was quieter when the window was down with the liners in place.