Rhino Ramps Truck Ramp Rated For 16,000 pounds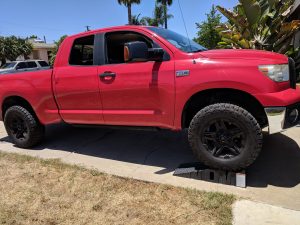 I bought the RhinoGear Rhino Ramps in order to do oil changes on my Toyota Tundra.  Even though my truck has a slight lift, the extra height of the RhinoGear RhinoRamps does help allot for moving around underneath.   I used to jack up the front of my Tundra with a floor jack and use jack stands, but my bigger tires and leveling lift kit were just out of the height range of the jack.  I saw a couple of pictures where people had built their own ramps with wood, but after searching on Amazon, it was just as cheap to buy some truck ramps.
Tire Fitment Toyota Tundra
Below is the front tire of my Toyota Tundra on the Rhino Ramps.  My truck has BF Goodrich 305/65/ R18 tires on it with Bilstein 5100 leveling shocks at the highest level.  The ramps are wide enough and the top platform is large enough to hold the tire without any problems.  The Rhino Ramps give just under 7 inches of additional height. Check out my post using my Rhino Ramps to do an oil change on my 2008 Toyota Tundra 5.7.
Tire Fitment Toyota 4Runner
This is the front end of my 2001 Toyota 4Runner.  The 4Runner is bone stock and has the standard 265/70R16 tires.  I recently used the Rhino Ramps to do an oil change on the 4Runner and it was much more convenient then they were on my Tundra.  Again it only raised the front end about 7 inches, but since the 4Runner is a lower car, it was much more helpful.  For this reason, I was able to fit a 5-gallon spackle bucket underneath to use as an oil drain bucket.  Check out my post using my Rhino Ramps to do an oil change on my 2001 Toyota 4Runner.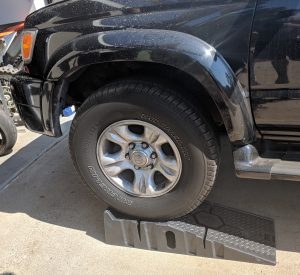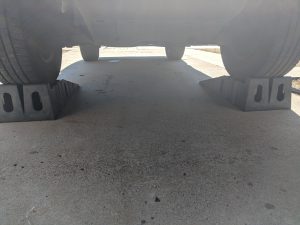 RhinoGear RhinoRamps Design
The Rhino Ramps are made from a composite plastic and have a reinforced box type design.  I was hesitant to use plastic ramps instead of the standard steel ramps at first.  The fact that the ramps look like they are made from recycled garbage bags didn't help either.  I read the reviews and looked around some Tundra forums and found that plenty of people are using them.  After searching on Amazon, I finally just went ahead and bought them.  The ramps are stackable and fit together nicely.  It makes storing them and moving them around much easier.  They weight about 20 pounds each and have handholds on each side.  They can be a struggle to get them to come apart sometimes.  I did find that I needed to pry them apart a couple of times after storing them for a while.
Tire Stops
At the top of the Rhino Ramps, they have a lip on it that keeps your tire from going over the edge.  With the oversize tires on my Tundra, I thought that I would easily roll over them, or maybe one if the ramps were lined up.  I've never had a problem with rolling on them to fast and going over, the lips are big enough to stop my trucks momentum.  On the bottom of the ramps, they both have a rubber pad to keep them from moving while pulling on.
I can personally tell that both of these work and the ramp is plenty strong.  When I first tried them with my Tundra, I hit the gas a little too hard and the truck lurched onto the ramps.  I then jammed on my brakes and the full weight of the front end was on the ramps.  The Tundra pushed the ramps a couple of inches but never rolled over and the ramps didn't buckle or break.
About RhinoGear
RhipGear is the maker of RhinoRamps.  They have a patented polymer internal support system that offers good weight distribution and unbeatable strength.  RhinoRamps design allows for reliable and convenient access to the underside of your truck or SUV.  The 17-degree incline provides easy use for low clearance vehicles, although this wasn't really a concern for me with my Toyota 4Runner and Toyota Tundra.