Meguiars Black Plastic Restorer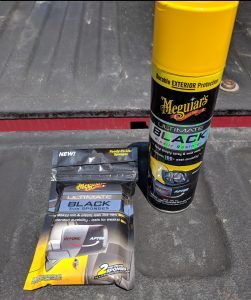 Using Meguiars Black Plastic Restorer has been the best way to restore exterior black plastic trim on my Toyota Tundra and my Jeep Wrangler.  On the trucks I have owned, it's always the black plastic that starts to fade to that makes it looks older then it is.  I've tried several different products, from using tire dressing, to Armorall, and other companies black plastic restorer.  I found that some don't last and others leave behind a greasy look to them.  I first found Meguiars Black Plastic Restorer in the spray can and tried it on the exterior black plastic trim of my Jeep Wrangler.
You don't realize how much exterior black plastic trim is on some trucks until you start cleaning it up.  I just cleaned up my Toyota Tundra and took some before and after photos to show how well Meguiars Black Plastic Restorer works.  Meguiars Ultimate Black Plastic Restorer comes in 3 different forms: a spray can, pre-soaked sponges, and a gel.  I ended up buying all 3 and found that each works better in different situations.
AMP PowerSteps
One of the first splurges I did on my Toyota Tundra was installing a set of AMP Research PowerSteps.  They are a set of powered sidesteps that retract when you close your door.  I wrote a long term review of the AMP Powersteps and the warranty issue I had.  One problem with them is that they are coated with grippy flat black paint.  Over the last 3 years, the black has faded a little and I hadn't found a good solution to keeping them black.  Because they are a step, I didn't want to put anything on them that would make them slippery.  The great thing about the Meguiar's spray is that it drys hard.  I would describe it as a spray on wax.
AMP Bedstep
Similar to the power steps, the AMP Bedstep also has a textured surface.  The step is made out of plastic and I didn't want to get this slippery either.  I use this to jump in the bed of my truck when loading my dirtbike.  The step wasn't as faded as the power steps because it doesn't get used as much and it's protected from the elements more.  The spray worked great on this also.
Front Grill
The front grill on my Toyota Tundra has a lot of little nooks and holes in it.  Again the spray worked the best here as I was able to get it in all the little areas.  Try to keep the spray off the paint and chrome.  It dries like wax and it is a little tough getting off the overspray.
Side Mirrors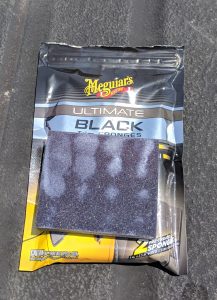 For the rest of my truck, I used the Meguiars sponges.  They come in a 2 pack of pre-soaked sponges that are plenty enough if you are just going to a couple of small areas.  I found that on my Tundra with the big tow mirrors, that one sponge per side was more than enough.  
Door Trim
I used the sponges on anything that was black and plastic and it came out really well.  The B pillar is painted black and I was using wax on it, but the Meguiars did a great job also without looking chalky.
The rest of my truck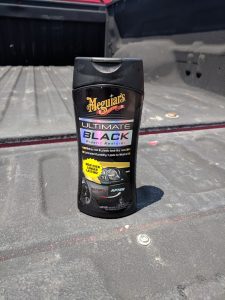 I used up what came with the sponges and ended up getting a bottle of the Meguiars Ultimate Black Gel.  If you know you are going to be doing more than just your mirrors, I would skip getting the sponges and just get the gel and sponges with it.  The bed rails took allot of the gel to cover since they were pretty long.
Door and Tailgate Handles
Front bumper and fog lights
The fog lights didn't really improve much even though they were pretty pitted from rocks.  The bottom bumper was easier to apply to if you remove the license plate.
Mud Flaps
The small front mud flaps I removed when I put on oversized tires, the rear mud flaps I still had.
Bed Rails
The top of the bed rails fades pretty bad from the direct exposure to sunlight.  The gel was the best choice to cover the whole rail.  At first, I tried with the spray but it didn't cover evenly.
Overall
I think my truck came out really well. The Meguiars Black Plastic Restorer gel also dries to hard coating and all have lasted through several car washes without fading.  I found the Meguiars ultimate black to be the best way to restore exterior black plastic trim that I have come across.
Before Black Plastic Trim Products
It's now easier than ever to cleaning and restoring black car trim. Back in the day, it seems like Armor All was the only choice you had.  The milky white spay we all remember that you would spay on any part of your car you had! By today's standards, it seems like it barely works to restore black trim.  It will look nice while your truck is in your driveway, but its effectiveness fades pretty quick.
Recently there has been a bunch of silicon tire dressing sprays that make tires looks great. The problem is that tire cleaner makes black plastic look slimy and eventually will wash away.  Also when you shop for restoring products, carefully look that it's not specifically made for JUST black plastic trim.   Some products contain black dyes which are excellent for restoring black plastic trim but will not come out nice if the trim is grey or a lighter shade.   This is how I ended up with Meguiars Black Plastic Restorer, I can use it on many shades of black trim on both my Toyota 4Runner and my Toyota Tundra.
Black Plastic Trim Products
New products on the market, especially the Meguiars Black Plastic Restorer that I use and review, are a new option for restoring black car trim. On modern cars, the paint has a decent clear coat that keeps the paint fresh and unfading for longer.   Now you can keep your black plastic trim looking just as good for the same amount of time.  Weather factors such as UV rays from the Sun, oxidation of the plastic itself, hard rain, road grime, and even plain old dust can cause fading to the plastic.
My Toyota Tundra has a lot of black plastic trim on in. When I started with the Meguiars Black Plastic Restorer, I thought it would work well for all parts of my truck. After some trial and error and repeated orders for different black trim restorers, I found the best black trim restorer for my specific needs.
Once you have done your first cleaning and restoring of your black plastic trim, these same Meguiars Black Plastic Restorer products can be used for maintenance of the black plastic trim. The black trim fades because of sun and weather are wicking oils out of plastic. After your first black plastic restoration, the black trim will look better for longer after the initial application.
I've tried several other black trim restorers, and I have found the using the various Meguiars Black Plastic Restorer products to be the most time efficient, easiest to apply, and much cheaper than sending my truck to a detailer.
Overview of Meguiar's
Meguiar's manufactures car care products and accessories for consumers and professional detailers.  The company was founded in 1901 and is a world leader in auto detailing supplies.  At the 1973 APAA Show in Chicago, Meguiar's launched its first consumer product, the Meguiar's Liquid Cleaner Wax.  Now Meguiar's has a range of products that spans automotive, marine, and Recreational Vehicle markets.  In 2008 Meguiar's was acquired by 3M Company.