GPI Radiators review for my 2014 KTM 250 SX-F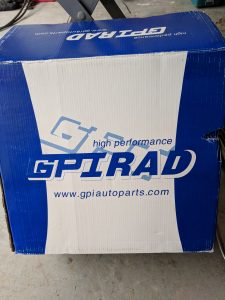 A fitment review of GPI Racing radiators for my 2014 KTM 250 sx-f stock radiators.  These radiators and several others like it are all over eBay for most dirt bike models.  I've had 2 sets, one for my 2009 KX450 and these for my KTM.  After busting up my stock radiators on both bikes, I replaced both of them GPI Racing radiators I found on eBay.  They are significantly cheaper than a stock set, and I was worried about the quality of the set, but on both bikes, they have held up great.  I took some pictures replacing them when I replaced them on my KTM and I wanted to show the quality and the fitment for anyone thinking about buying them for their bikes.
GPI Racing seems to be the most popular brand on eBay.  They seem to have just recently started selling on Amazon.  I can't tell if they are any better or worse then the other brands, they all look to be Chinese made and look the same to me.
Stock side by side with GPI Radiators
The stock KTM radiators held up well, I was able to bend them straight after crushing them after a crash, but they developed a pinhole leak the last wreck and it was time to replace them.  The GPI Racing radiators say that they are oversized, and it shows on top and bottom of the radiators, they do have slightly wider sections, but it doesn't appear like much.
Stock radiator parts that need to be transferred
The GPI Racing radiators come with a new cap but you do need to transfer over the rubber mounting grommets from the stock radiators.  The KTMs have an oval metal washer that mounts in a slot on the side of the radiators.  I did have to sand these down a bit to fit in the GPIs.
Mounting fitment
The GPI Racing radiators mounted up with no modifications needed.  The mounting holes and hose necks all lined up.  The only difference I found between the GPI Racing and the stock was the overflow nipple on the filler cap. The nipple was longer on the GPI Racing radiators, but it didn't interfere with anything when mounted them up.
Shroud fitment
The shrouds fit right on the GPI Racing radiators and the mounting holes lined up.
Overall
This is my second set of these radiators and I haven't had any problems each time.  While I had the coolant drained, I refilled with Engine Ice.  I didn't have overheating problems with the stock radiators so I can't comment on how much cooler the engine runs.  As for strength and fitment wise, the GPI Racing radiators are a cheaper alternative the stock KTM radiators.