WPS Featherweight Lithium Battery Review
My WPS Featherweight Lithium Battery review of the install on my 2008 KTM SuperDuke.  There's not much to review on a battery, it either works or it doesn't.  The main feature of this battery is how much weight it saves.  On my dirt bike, the battery mount is under the seat.  The extra weight savings high up on the bike will be more noticeable than on my Superduke.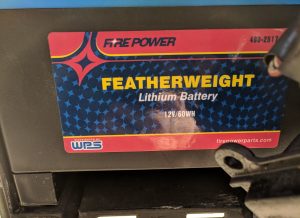 On my Superduke, the battery mounts low behind the front tire, and I didn't really feel much difference on a 400+ pound bike, the price between a regular lead acid battery and the WPS Featherweight Lithium Battery was almost the same (I actually got the WPS for cheaper) that I went with it.
 WPS Featherweight weight vs stock Bike Master
The WPS Featherweight is 75% lighter than the stock lead-acid battery.  The battery feels like it's an empty plastic box when I picked it up and it's quite impressive how light it is.  I put both on a scale and the WPS Featherweight is 964 grams (2 pounds 2 oz) and the Bike Master is 3860 grams (8 pounds 8 oz).
WPS Featherweight size vs stock
Not only is the WPS Featherweight much lighter than stock, but it's also a little bit smaller.  I thought I might have gotten the wrong size, but the WPS came with shims or spacers to make the battery fill in the same size as the stock battery.
WPS Featherweight Battery Capacity Indicator
One nice feature that is not on regular batteries is that the WPS Featherweight has a charge indicator.  There is a test button that you can press and will show the charge of the battery.  It's a nice extra if you have access to it.  On my SuperDuke, the battery is mounted in a box with no direct access, so not useful on my SuperDuke, but on my dirt bike, it would be right under the seat.
Mounting and fit
With the spacers added, the WPS Featherweight fit right in the battery tray.  It seems to crank my bike "quicker," but then I was comparing it to an old battery that eventually died.  The WPS Featherweight came with new screws for the terminals and the battery mounted right up.  After installing, it's just all covered up underwires on my SuperDuke and you wouldn't even know it was there.