Toyota 4Runner Oil Change Parts and Torque Settings
This is a quick reference I made for a Toyota 4Runner oil change.  Since there are tons of post and Youtube videos on doing an oil change, I put all the things I looked up along the way in this quick reference.  One of the things that bugged me was getting all the little details that go along with an oil change.  The following are all the little details I collected doing an oil change on my 2001 Toyota 4Runner.
How many miles between oil changes? 5,000 miles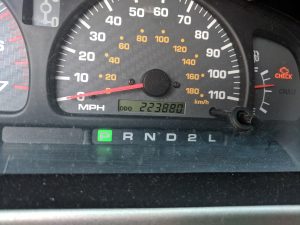 I've been doing oil changes at  5,000 mile intervals on my 2001 Toyota 4Runner.  My 4Runner is now pushing 223,880 miles and is still running strong.  There's an old saying that you need to do an oil change every 3,000 miles.  This was a common mantra for older cars using conventional oil.  Today with synthetic oil, 5,000 miles is perfectly safe.  You can get oil that claims up to 15,000 miles of protection, but that just seems unreasonably long between changes.  It's more likely that your car will burn enough oil that you would need an oil change far earlier.
What type of motor oil?

6 QUARTS OF 5W-30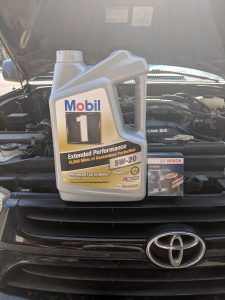 I always run synthetic oil in all my cars and Mobil 1 is the most common synthetic oil at most stores.  For my 2001 Toyota 4Runner oil change, the manual calls for 6 Quarts of 5W-30 motor oil.  On my 4Runner, I switched over to Mobil 1 5w-20 extended performance to see if I get any better fuel economy using a slightly thinner oil.  This is the oil weight Toyota specs for the newer 4Runners.  It says that it's rated for up to 15,000 miles, but I'll switch it out at 5,000 like normal.
What type of oil filter? 

BOSCH 3330
For a 2001 Toyota 4Runner oil change, the oil filter is a Bosch 3330.  I have tried a couple of different brand of oil filters and I never had a problem with any of them failing.  Just use an OEM filter or high-quality oil filter, it's not much more than the cheap generic brands.
What size is the drain plug?

14mm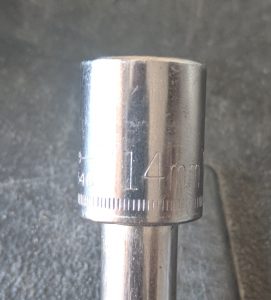 The drain plug is a 14mm socket.  It doesn't need to be a deep socket to fit over the bolt, but you will need an extension to give you enough room to clear the skid plate.
What part number is the drain plug washer? Toyota Part # 

90430-12031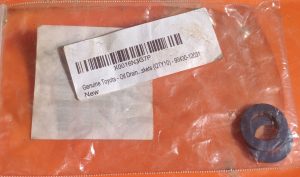 The drain plug has a soft 1-time use washer.  Most people just reuse the old washer but you should replace it each time you do an oil change.  You can get a 10 pack of washers for less than $10 and have plenty left over.  I have a 2008 Toyota Tundra that I use these washers when I do an oil change.
What is the drain plug torque setting?  29 ft/pounds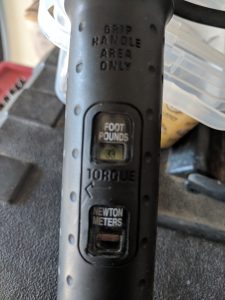 If you have a torque wrench, the setting is 29-foot-pounds(not 33 shown in the picture).
What is the Oil Filter torque setting?  Hand tighten + 1/2 turn
The oil filter doesn't need to be cranked down on.  You can hand tighten it until you feel it's fully seated, then turn it another half turn to snug it up.
Tips for doing an oil change
Car Ramps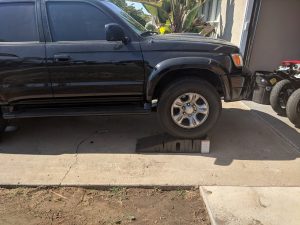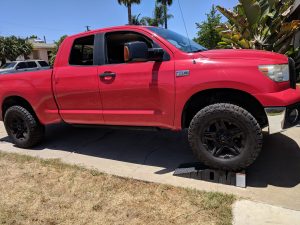 With doing an oil change, there are a couple of tools and tips that make it go a little easier.  The first tip is to give yourself enough room to get under the car.  I used to jack up the front of my cars and put them on jack stands, but lately, I have been using car ramps.  I bought a set of RhinoGear 16,000 pound car ramps.  They are plenty strong for a Toyota 4Runner oil change and I use them on my Toyota Tundra.  Even though both trucks have plenty of room underneath them to work, the extra height of the ramps let you sit up and move around easier.  It also gives you room to use a large oil drain bucket, which is my next tip.
Oil Drip Pan and a 5 Gallon Bucket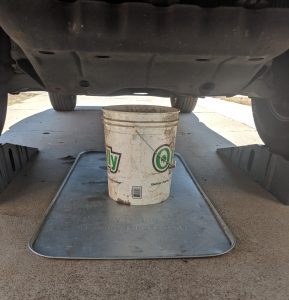 With a car up on ramps, you can use a standard 5-gallon spackle bucket you can pick up anywhere.  The extra height of the bucket keeps the oil from splattering around.  It also helps when moving the bucket out from the car and keeping the oil from sloshing around and over the side.  It's annoying to finish draining oil only to spill it all over the place when you are dragging a small oil pan from under your truck.
The other tip from draining oil is to use an oil drip pan underneath everything while you are working.  The big 5-gallon bucket will catch all the oil, but you will always need a place to place your tools and drain plug down that might have oil on it.
Drain Plug Washers
The last tip is a pretty simple one of using a new drain plug washer each time you change your oil.  It's cheap insurance and also prevents a slow drip from the oil pan.  Just keep an eye out that the washer doesn't get stuck to the oil pan after taking the drain plug out.
About Oil Changes
Regular maintenance is essential to obtaining the highest level of reliability from your Toyota 4Runner.  Keeping good maintenance records will help with the reliability of your SUV and can help with your vehicle's resale value.  With all internal combustion engines, oil is the lifeblood that keeps it running.  Regular oil changes are generally considered the most important maintenance service for your car.  The motor oil resides in the oil pan attached to the bottom of the engine.  All internal parts of the engine are lubricated by the engine oil.  Old engine oil can cause inadequate lubrication and can cause engine parts to wear out over time and eventually lead to engine failure.  Changing the oil along with the oil filter keeps the oil clean and free of debris.
Miles or Months?
If you do not drive more then 5,000 miles a year, Toyota still recommends obtaining scheduled service for your vehicle every 6 months.  Seals on the oil filter can dry out if the engine is not run for a long period of time.
Parts Summary
All parts listed for a Toyota 4Runner oil change: