American Outlaw Wheels Review CRACKED WHEEL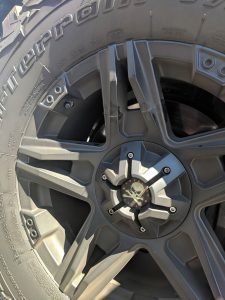 My review for my American Outlaw Wheels on my Toyota Tundra is to STAY AWAY from these wheels.  I've owned my 2008 Toyota Tundra for the last 3 years and have put over 60,000 miles on it.  I bought my truck with the American Outlaw Wheels Hollywood wheels already installed by the previous owner.  They looked good and were only 6 months old when I got them.
In less than 3 years, I had 2 center cap inserts pop out and a crack through one wheel.  American Outlaw Wheels refused to warranty or even help me out with credit toward new wheels.
Driving Habits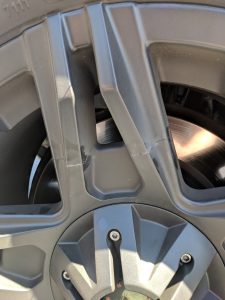 What really bothers me is that the wheel cracked out of the blue.  I wasn't off-roading and didn't hit anything.  I use my Tundra for commuting to work, towing my toy hauler, haul my dirt bikes, and for weekend errands.  95% of the time I drive, the bed of the truck is empty.
At the time I noticed the crack, I was on my way to pick up some fence.  I hopped out of my truck and saw the crack right away.  It was the driver side front wheel, so I see it every time I get in and out of my Tundra.
In the picture, you can see the crack had just happened.  The paint near the crack was chipped but hadn't come off yet.  No marks on the wheel indicating that I hit something either.
The Cracked Wheel
It happened on my driver's side front wheel and cracked clear through two wheel supports.  At first, I thought it might have been a surface crack in the powder coat from flex in the wheel.  Closer inspection and taking off the wheel showed the crack was clear through both supports.
Center Caps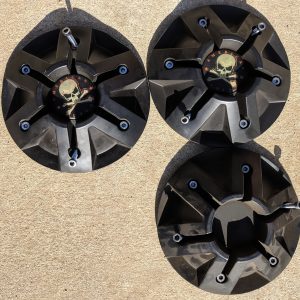 A smaller issue I had was with the center caps.  American Outlaw Wheels made the center caps out of plastic and had their logo on an insert glued in.  On 2 of my4 center caps, the insert popped out.  When I contacted American Outlaw Wheels, they would only sell me the whole cap and not just the insert.
This one was a small thing that I felt could have been replaced for free.  It's one of those small details that you notice and it makes the wheels look aged faster.
American Outlaw Wheels Review
In the end, I'm not happy with American Outlaw Wheels or how they handled it.  I have the original receipt which says "Lifetime Structural Warranty" on it.  They denied my warranty because I wasn't the original buyer of the wheels.  Even after pointing out that the wheel was less than 4 years old and I've owned them since they were on the truck for only 6 months, they still did nothing.
The worst part was that the model of wheel I have has been discontinued.  I couldn't buy just one and would need a full set of 4.  American Outlaw Wheels didn't even offer me a deal on buying a new set from them.
Outcome
I really wasn't in the market for new wheel out of the blue.  I checked eBay and Craigslist, but I couldn't find another set anywhere.  After a week of driving around on my spare, I decided to bite the bullet and buy a full new set of 4.  I found a more reputable wheel maker that seems to be popular on other Toyota Tundra called Fuel Off-Road wheels.
I needed to keep my tires since I just bought some BFGoodrich All-Terrain T/A KO2 a couple of months ago.  With the need to keep the wheel size to an 18-inch wheel, and the offset of the wheel to 20mm, I ended up getting the Fuel Offroad D564 Beast 18×9.  It has the right size and offset and come in the Toyota Tundra 5 x 150 bolt pattern.  So far I like them and will be writing a review soon.
About American Outlaw Wheels
American Outlaw Wheels are one of the main brands sold by Discount Tire.  The black painted rims like the Hollywood that I had are a popular design of theirs. The company appears to be targeting SUVs and trucks for their wheels.  Besides my Toyota Tundra, they advertise for the Toyota Tacoma, Ford Raptor, Jeep Wrangler, and the Chevy Silverado.  All of these are full-size trucks or heavy off-roading vehicles. I'm surprised that my wheel cracked in normal driving conditions, but the fact that they target full-size trucks and didn't warranty my wheel turned me off.