Pro Taper Handlebars vs stock Renthal Fat Bars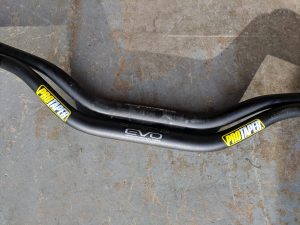 My 2014 KTM 450 SXF came stock with Renthal Fat Bars and I just recently switched over to Pro Taper handlebars with the Windham/RM Mid bend.  I didn't really have that big of an issue with arm pump with my stock bars.  They lasted a couple of years and though plenty of falls without bending.  My problem with the stock bars was the bend they had.  The bend on them seemed to put pressure on my throttle hand and it would cause my glove to wrap a small bit around the throttle and hold it open slightly.  It felt like a slight whiskey throttle going into some turns after cutting the throttle.
I had the Pro Tapers with the Windham/RM Mid bend on my old bike, a 2009 KX450.  I added them to get some height on the stock setup so I wouldn't feel like I was bending over at much when I rode.  When I started looking for a replacement on my KTM, the Pro Taper handlebars were the only ones I was considering.
Pro Taper Size
The bar is a 1 and 1/8 inch diameter without a crossbar.  The only other bar that I know that is oversized like this is the Renthal Twin wall.  I've ridden with both and this design without the crossbar allows the handlebar to flex more and absorb impacts better than conventional bars.  The only downside is if you run a steering damper.  The Scotts steering damper I had sits on top of the bar and you cant use the bar pad.
Pro Taper Bend vs Renthal Fat Bars
The Pro Taper Handlebars have a slightly higher and flatter bend to them.  They rise earlier in the bend and end up flatter and more parallel to the ground.  The Pro Tapers also have the same back sweep to them at the stock bars
Fitment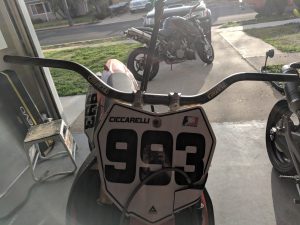 The Pro Taper Handlebars are a direct replacement for my stock 2014 KTM Renthal Fat Bars.  The bars fixed my grip problem with my stock bars.  Try giving them a shot when you are setting up your bike.  These small differences can change the feeling of a bike and it's a relatively inexpensive option to try.